Magicsoft CG Broadcast Quality
MagicSoft CG has a GPU-based rendering engine that supports all SD and HD modes. The graphics are 24 bit (TrueColor) with 8 bit alpha channel (256 transparency levels). De-interlacing and anti-flicker display options guarantee the proper output of images and live video. 
The engine offers Antialiasing for TrueType and OpenType fonts and Anisotropic filtering for images by using the GPU.
3D working environment (no layers)
The objects can be animated by moving, rotating and changing color and transparency and can be dynamically moved on the z-axis eliminating the limitations of the layer oriented programs. Rendering for both Preview and On Air is done in the GPU, so a powerful CPU is not required. A key-frame concept is used to describe the characteristics in time of an object and can be used to interpolate previous-mentioned characteristics in the time intervals between key-frames.
Scripting and Automation
MagicSoft CG supports scripting which can make it possible to run application like SMS to TV. The TCP/IP protocol allows you to control the displaying and content of a project.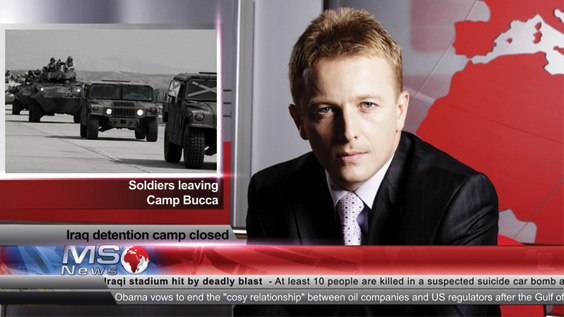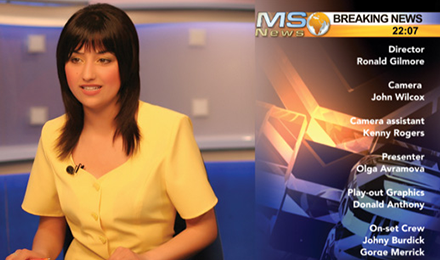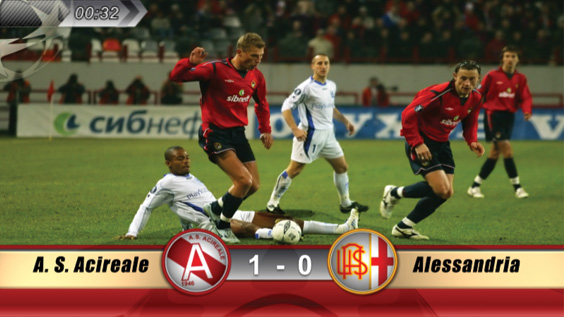 The CG can be used as a solution for news allowing simultaneous management of                            
The Roll project can be easily previewed during editing of multiple                                                  

The TCP/IP protocol can be used for controlling the CG from another application
Live input, Lower Thirds and Tickers.                                                                                                                              rows. The content can be changed dynamically.
The lower third is very flexible and it can be easily used for managing the promo                        

Televoting and interactive games can be implemented by using scripting, TCP/IP

            The Script project can be combined with animated smileys for producing
                                                                                                                                                                                                                                                                                                                                                                                                           hourly weather
Hardware Specifications
The following configurations are based on Intel motherboards ( socket 1151 / 1150 / 1155 / 1366 / 2011).
The recommended configurations are easy to upgrade from SD to HD (sure, an HD system can also work in SD ).

Our software works under Windows 7 ( Win7 64 bit it is recommended ). The list of the compatible hardware it is open. 
The hardware vendors update their systems on a regular basis and it is difficult to evaluate every new systems that comes to market.
The most important thing to consider is that the Decklink or Intensity card must be compatible with the motherboard and the rest of your system. Our software will work for sure if the systems are configured correctly.
HD configurations
CPU Socket
MotherBoard
Processor
RAM Memory
Video Card
Blackmagic Card
Socket 1151
chipset Z170
Gigabyte
GA-Z170XP-SLI 
Asus
Z170 PRO
Intel Core i7 6700K / 6700
2 X 4 GB
( Win 7 / 8.1 
64 bit
recommended)
nVidia GTX 970
4GB DDR5
DeckLink 4K / Pro 4K
Socket 2011-v3
chipset x99
Gigabyte
Asus
SuperMicro
Intel Core i7-5820K / i7-5830K
2 X 4 GB
( Win 7 / 8.1 
64 bit
recommended)
nVidia GTX 970
4GB DDR5
DeckLink 4K / Pro 4K
Socket 1150
chipset Z87
Asus Z87-K
Intel Core i7 4770k
2 X 4 GB
( Win7 64 bit
recommended)
nVidia GTX 670
4GB DDR5
DeckLink 4K
Socket 1155
chipset Z77
Gigabyte Z77X-UP4-TH
Asus SaberTooth Z77
Intel Core i7 3770
2 X 4 GB
( Win7 64 bit
recommended)
nVidia GTX 670
4GB DDR5
DeckLink 4K
Socket 1155
Gigabyte
GA-P67A-UD5-B3
GA-Z68X-UD7-B3
Z68MA-D2H-B3
Intel Core i5 2500
2 X 4 GB
( Win7 64 bit
recommended)
nVidia GTX 560
2GB DDR5
DeckLink HD 3D
Socket 1366
Asus
Sabertooth x58
( use only the
16x PCIe slots )
Intel Core i7
920 – 970
3 X 2 GB
( Win7 64 bit
recommended)
nVidia GTX 460
2GB DDR5
DeckLink HD 3D